Our best Food Adventures often come when we least expect it, and some of these impromptu meals, end up being the most fun.  A perfect example of this was our visit to Tik's Thai Grille which is located in a strip shopping mall on the Bellbrook-Centerville border.  The owner, Tik has been a successful restaurateur  for years.  Big Ragu stumbled upon this place on his way home and decided this was a spot that he and the Food Adventures Crew would have to try.  All he had to do was mention the words "Thai Food" and "Close to home" and our foodies were on their way.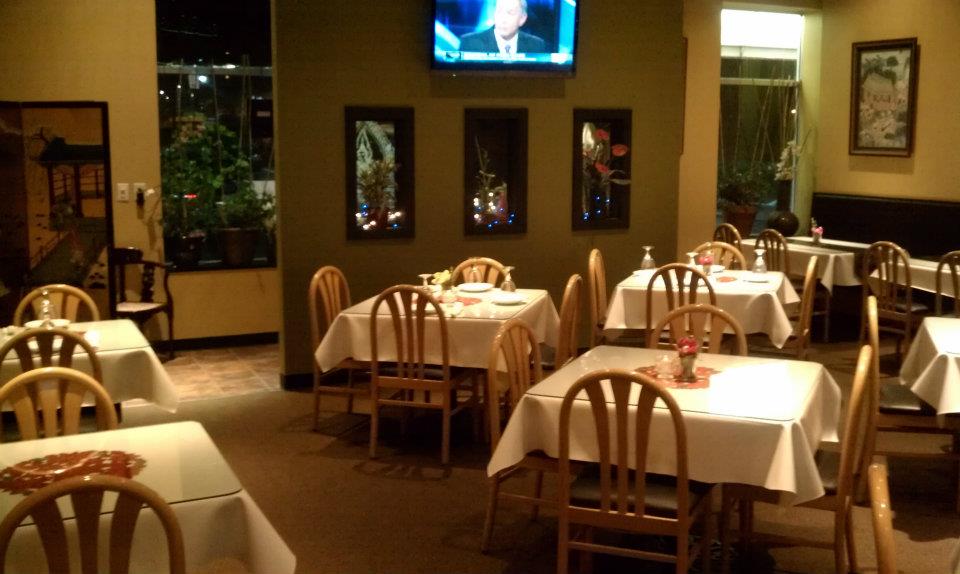 Once inside the restaurant, we were instanty struck by the stunning interior.  The restaurant was spotless and beautiful artwork adorned the walls.  This would make a perfect date place.  We were greeted by Tik who showed us to our nice, "Romantic" table.  It was a late weeknight, so we had the rare opportunity to talk to Tik and the staff.
Before you can understand Tik's Thai Grille on 725, you have to know what makes it tick.. whoops, we mean Tik.  Who is Tik?  She is a very animated person who is originally from Thailand.  Since her arrival in America, Tik has become a self taught chef who used to own a few restaurants including Yummy Burger and what is now House of Thai in Beavercreek.  An unlikely career for someone who as a child in Thailand, could not stand the chore of cooking.  Well, look at her now.  She currently owns and helps operate two Thai restaurants, Tik's Thai Grille in Bellbrook and Tik's Thai Express across the street from Wright State University.
Very proud of her menu, Tik was eager to share many dishes with us.  The kitchen offers traditional Thai food and lots of options for carnivores and vegetarians alike.    We decided to grab an appetizer and went with the Mango Fresh Rolls.  Tik brought out our appetizer, but also decided to accompany the mango fresh rolls with Tom Yum Soup, Fried Butterfly Shrimp, and Crispy Thai Spring Rolls.   We instantly noticed how beautifully the food was presented.  The Big Ragu immediately went for the fried Butterfly Shrimp and munched on the Mango Fresh Rolls.  This food was not only gorgeous, but delicious as well.  The Mango Fresh Rolls were incredible!  They are loaded with Avocado, Mango, Vermicelli Noodles, Carrots, Mint and rolled into Rice Paper.  The Big Ragu who is the "King of Fried Foods," thinks that the Fried Butterfly Shrimp was one of the best appetizers that he has ever tasted.   This could be because of the spectacular Sweet Chili Dipping Sauce which accompanied the shrimp.  We enjoyed the Thai Cripsy Spring Rolls as well and our sinuses were pretty much drained because of the Tom Yum Soup.  We are still sweating from this flavorful soup!
Your Food Adventurers will admit that we were starting to feel a little full from the arsenal of appetizers, but out comes Tik with our entrees.  We decided to go with is usual staple of Chicken Pad Thai and also decided to try the Bourbon Chicken Noodles.  The Pad Thai was excellent…..full of big chunks of chicken, soft egg noodles, eggs, carrots, cabbage, and that wonderful Thai Peanut Sauce.  This dish did not disappoint!  The Big Ragu was equally impressed with his selection of Bourbon Chicken Noodles which contained Egg Noodles, Chicken, a mix of vegetables, egg, and the housemade Bourbon Sauce.  Our pants really started to feel quite a bit tighter due to all the food.  We moved slowly so we would not split any seams.
Thai people are known for their excellent hospitality and Tik is a perfect example of this.  When we were about finished with our entrees, she came into the dining room carrying a Tin Foil Statue that resembled a stork or bird of some sort.  We didn't know what to expect.  If this was a film, this would the be the grand finale. Tik suddenly pulled out a giant butcher knife and carved into the tin foil.  She made this into an event and inside housed a wonderful Seafood, vegetable, and Jasmine Rice combination.  We would find out that this was called the Seafood Bouquet.  It was loaded with shrimp, scallops, mussels, pieces of fish, and squid.  We were so full that we wanted to take a nap, but we couldn't let our graciuos host down.  We dug into the Seafood Bouquet and finished it off.  Surely we were finally done with the parade of tasty food, right?…Wrong..
At this point, the spirited Tik decided that we needed dessert.  We asked her "Do either one of us look like we need dessert?"  She brought out a sliced Mango on a bed of Sweet Sticky Rice and she wrote the words "Thank You, Tik" in Chocolate Sauce.  We decided to climb over the "Food Wall" we had hit and finish this dessert off.  It was absolutely amazing!  It was a wonderful way to top an excellent meal.
Tik sat down with us and explained to us how it took her a year to create this beautiful restaurant.  She wanted to get it just right and she succeeded!  Tik was especially proud of the beautiful artwork that hangs on the restaraunt walls that was created by her son.  Before we exited the restaurant, Tik brought out a framed article from the Dayton Business Journal showcasing her newest establishment.  This Food Adventure summed up why we love dining and supporting local restaurants……the owners take pride in what they do. 
The restaurant also has a bar inside where you can use the line, "your pad(thai) or mine?"(groan).  Tik's also has a drive-up carryout window!  Does it get much better than that?  The wonderful thing about this restaurant is that it can be a nice, casual place or a romantic, "Date Night" place.  The prices are reasonable, the decor is beautiful, the food is artfully created, and the owner is a pretty special person as well.  We highly recommend that you use your noodle and give Tik's Thai Grille a chance.  Tell them the Food Adventure Crew sent you!
Have you been to Tik's Restaurants?  Feel free to leave a comment below!
---
Tik's Thai Grille
4459 W Franklin St
Bellbrook, Ohio 45305
Mon- Thurs: 11am – 3pm, 4:30-9:30pm
Fri: 11am – 3pm, 4:30-10pm
Sat: noon – 10pm
Sun: noon – 9pm